There's minutes of 2012 to go. We have tucked the exhausted children - full of crisps from a friend's party - into bed, and we are sitting in the living room, with Mr Coffee softly playing Auld Lang Syne on his ukelele.
I am enjoying my last cheap, pretendy Baileys of the year. In fact, my last cheap, pretendy Baileys for some time. I've signed up for a completely dry January, to raise money for Cancer Research. See? If you'd like to donate, go right ahead. Here's a handy badge!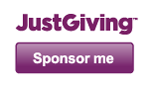 Whilst I'm not drinking, I plan to completely declutter my home, shelf by shelf. Not for any noble reason. Not because I wish to achieve a Zen-like calm, a simple life surrounded by only William Morris-y items of beauty and use. No. Simply because somewhere in my home, buried beneath
something
, is a hardbook book about zombies that I bought in September for my nephew. I shall find it. It is a New Year challenge.
Happy New Year. Happy, Happy, Happy New Year.